Using the Telephone for Harassment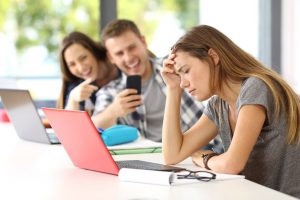 In Oklahoma, it is against the law to use a telephone for harassment, to threaten, or for obscene communication.
The law extends to all telephone, cell phone, or other electronic communication devices, and makes it illegal to use them to make indecent or lewd comments and the like. It is also illegal to use these devices to intimidate, stalk, threaten, or otherwise put someone else in fear of injury or death. Okla. Stat. tit. 21 § 1172
That means that you cannot speak into the device, call and breathe heavily into the phone, and the like. You cannot text, leave messages, send emails, or use platforms and apps in such a way as to threaten, harass, make obscene comments, and the like.
Harassment is illegal. Apps such as Instagram and Snapchat cannot be used in this way either.
In addition, you cannot make repeated calls with the intent of harassing the recipient of the calls, or call in the middle of the night with the intent to harass or make someone afraid. This kind of internet — or electronic — trolling is illegal, whether you are doing it alone or with others. This amounts to stalking, which is treated severely in Oklahoma.
Penalties for Harassment
The penalties for this type of behavior can be severe, especially with repeated offenses. The first offense is generally charged as a misdemeanor. However, any subsequent offense is charged as a felony. Okla. Stat. tit. 21 § 1172
If convicted of a felony, you could spend up to two years in prison. You may also be required to pay a fine of up to $1,000. Okla. Stat. tit. 21 § 9
If you are charged with stalking in addition to or in lieu of an obscenity threats or harassment by telephone charge, you could face up to a year in jail in addition to a possible fine up to $1,000. Okla. Stat. tit. 21 § 1173
The prosecution must prove all the following elements in a stalking case, that you:
willfully,
maliciously and,
repeatedly,
followed or harassed another
in a manner that would cause them or a member of their family
to feel frightened, intimidated, threatened, or harassed, and
they felt that way as a result of your action.
OUJI-CR 4-29
If the harassing behavior is in violation of a protective order, a condition of a person's parole expressly prohibits this behavior, or if the person engaging in the behavior was sentenced within the past 10 years for harassing the same person, then the matter is charged as a felony. Penalties are severe — up to five years in prison, a fine of up to $2,500, or both. Okla. Stat. tit. 21 § 1173
Penalties escalate with subsequent violations. They are punishable by up to 10 years in prison and a fine of at least $5,000. Okla. Stat. tit. 21 § 1173
This kind of behavior can be frightening to a victim. But sometimes, a situation can get out of hand and escalate because of the actions of both parties.
If you are facing charges, you need to take them seriously and get serious help. An experienced criminal defense attorney can guide you through the system and help you build a strong defense.
Free Consultation with an Experienced Claremore Criminal Defense Attorney
Freedom is precious. Don't try to go this one alone. Get the help you need.
Claremore Lawyer is here to help you. Don't delay. Call us today.
And your initial consultation is free. Call us at 918-213-0950.
If you prefer written correspondence, submit your question using the form at the top right of this page.